Museum 2 Museum: Tyneside Cycle Routes
We've connected three museums in Tyneside to 11 miles of public cycleway and two easy rides for beginners or families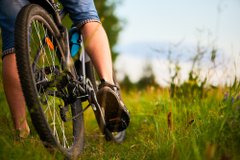 We're inviting you to get on your bike and visit museums across Tyneside. Cycling can help you get fit and stay healthy. Visiting a museum can also help improve your mental health and wellbeing.

We've connected three museums in Tyneside to 11 miles of public cycleway and two easy rides for beginners or families with young children. Using existing cycle routes, including the Hadrian's Cycleway Route 72, Byker Link and new inner-city cycle lanes in Newcastle City Centre, we've created a special Museum 2 Museum cycle route map to guide you.
The routes are mostly traffic-free on flat terrain with short sections of on-road cycle lanes and some short steep sections. Ideal for all cyclists and suitable for all cycle types, we would recommend all tyres apart from full slick or racing bike tyres.
Please click here to find out more about the Museum 2 Museum: Tyneside Cycle Routes.
Disclaimer
Outdoor activities involve a degree of risk. Tyne & Wear Archives & Museums accepts no responsibility for any accident or injury resulting from following these routes. Cycling routes change over time. Weather conditions may also affect path surfaces. Please use your own judgement when using the routes based upon the weather and the ability, experience and confidence levels of those in your group.