Hadrian's Wall Segedunum
View an 80-metre section of original remains of Hadrian's Wall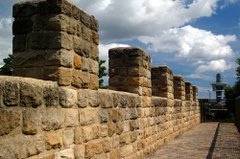 The reconstructed section of Hadrian's Wall is a gated area on the opposite side of Buddle Street to the main fort site, just a few minutes walk away.
---
An 80 metre section of original remains of Hadrian's Wall, standing eight courses high in places, can be seen to the West of Segedunum.
A reconstructed section of the wall, which gives an impression of how it may have looked 1,800 years ago, stands beside the actual line of the original wall.
Archaeologists working on the remains were surprised to find that the world famous Wall had collapsed, in spectacular fashion, during the Roman period. The collapse was most likely to have been caused by the washing away or the slumping of the ground beneath it.
The section of the wall is unique, as it is the highest surviving section of Hadrian's Wall on view to the public in Tyneside.