The Viewing Tower
Climb the 35 metre high viewing tower for stunning views across the fort.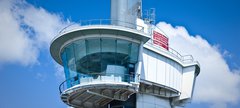 Open: During museum opening hours
---
Venue admission charge applies. Find out more
Please note: currently the lift to the Viewing Tower is out of order. We are working to get it up and running as soon as we possibly can. You can still access the tower via the staircase.
The centrepiece of Segedunum is a 35 metre high viewing tower which gives stunning views of the excavated Fort, the river Tyne and the surrounding area.
Set against this dramatic backdrop, watch 2,000 years of history unfold as an amazing computer generated story chronicles the changes at Wallsend from Roman times and the building of the Fort to the growth of heavy industry on the River Tyne.