Sentius Tectonicus
8.5 ft Roman Centurion sculpture in steel by artist John O'Rourke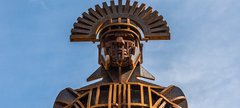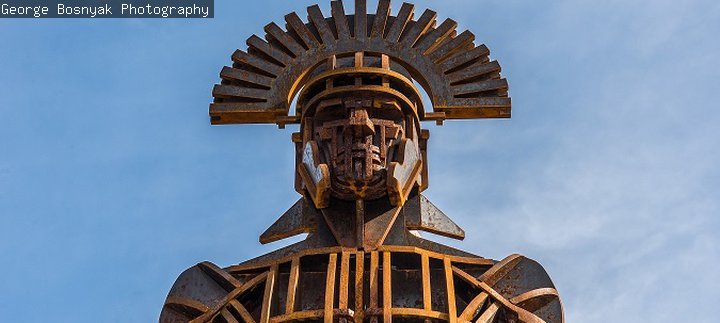 Open: During museum opening hours
---
Sentius Tectonicus is an eight and a half feet-high sculpture of a Roman centurion soldier marking the eastern end of Hadrian's Wall.
Artist John O'Rourke was commissioned by North Tyneside Council to create the Centurion which is constructed from weathering steel and measures 2.8 metres high.
The contemporary sculpture links both the site's Roman heritage and its more recent industrial past.
His name comes from an inscription recovered close to Segedunum which reveals that a centurion named Sentius was supervising the building of a section of Hadrian's Wall in the vicinity. Tectonicus refers to the sculpture's design as an architectural man, with the centurion's torso emerging from a Roman four storey building.

The sculpture contains 575 components and more than three tonnes of Corten steel – the same material used to construct the Angel of the North.
John O'Rourke, Artist, said: "From the outset my concept for this sculpture was to create a soldier on the one hand, but also a spiritual warrior. I also wanted to construct a form which acted as a broader symbolic statement; alluding somehow to the region's past, present and future. Wallsend's more recent history revolved around the shipbuilding industry. Making a figure which adopted industrial materials and fabrication methods ensures that the work's structural and material substance forges those links."
With thanks to North Tyneside Council; WD Close who provided all of the materials and engineering expertise with trainees and apprentices from AIS Connect helping in its construction; Capita who designed and built the statue's foundation and plinth.