KS2 & KS3: Archaeology, Drama, History & Local History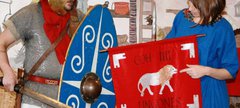 £90 per workshop
Each workshop lasts for about 1 hour 30 mins with a maximum of 32 children. It provides a new and exciting contrast to the Roman activities on site. Please contact the Museum to book. The workshop can be adapted for KS3 and SEND groups.
What was it like to be a Roman soldier?
Children pretend to be new recruits in the Roman Army and arrive at Segedunum Fort for their training. They learn to march and drill for battle and attend a 'kit training' session in which an adult officer gets dressed in armour and equipped with weapons. In 3 groups the recruits will learn how to fight, check they know all about the kit through handling it, and practice their parade skills ready for the arrival of Legate Marcus Caelius, Commander-in-Chief.
Q&A time with handling of original artefacts found at Segedunum Fort completes the workshop.