North Tyneside Art Trail 2021
This is a historic exhibition. It is no longer available to visit and this page is only retained as a record of the previous event. For current and future exhibitions, visit our
What's On
page.
Visit fantastic public artworks and exhibitions by artists living in the area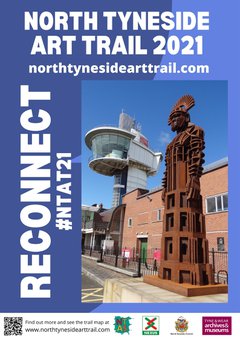 Until 31 August 2021 (historic exhibition)
Michael Cunliffe, Artistic Coordinator of North Tyneside Art Studio, said: "Being involved in art and creativity has been shown to improve your mental health and North Tyneside is home to an incredible range of art, artists, and art organisations. We want to encourage people to get out and see what we have to offer and take time to enjoy the natural and cultural sights of the county as well."
"Over lockdown we have seen people exploring their own creativity, from baking bread to making rainbows for the NHS. We want to encourage everyone to keep being creative, even when restrictions lift by making art about reconnecting with the world and the people they love and putting it up in their windows for the public to enjoy."

As part of the art trail, residents of North Tyneside are being encouraged to join in and show off their own creations at home and on social media with the hashtag #ntat21.

Visit all 12 highlighted key sites on the map and claim your hand-made, limited edition completion medal from North Tyneside Art Studio.
To find out more and view the Trail map, visit: www.northtynesidearttrail.com