*CLOSED UNTIL MAY* Laughter Line
The Museum is closed 19 March - 30 April following COVID-19 advice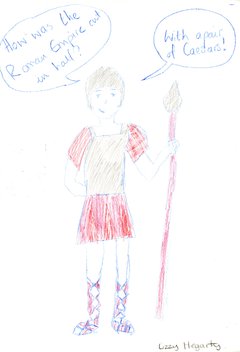 The Museum is closed 19 March - 30 April following COVID-19 advice
Open:
Mon - Sat; 10am - 3pm (until 4pm during February half term holidays)
Price:
Kids under 16 always go free
Adults *£5.95, concession *£3.95
Adult Season Ticket *£14, concessions *£10
* Ticket price includes voluntary donation

The Museum is closed 19 March - 30 April following COVID-19 advice
'Borderline Funny' was the major exhibition held at Segedunum last summer. Curated by the Friends of Segedunum, it explored Roman life on Hadrian's Wall as depicted in cartoons over the years. An important aim of the exhibition was to inspire visitors (and especially children) to produce their own cartoons or jokes about Hadrian's Wall in response to those they had just seen.
The response was incredible, with over 700 cartoons produced over the six months of the exhibition. Many of them were so good it was decided a follow-up exhibition was needed in order to do them justice.
On display are the 50 favourite cartoons as chosen by the Friends of Segedunum. Most of the cartoons are anonymous because they were first created by visitors for temporary display on a wall in the original 'Borderline Funny' exhibition, but our thanks go out to all the artists represented.
Acknowledgements
The Friends of Segedunum
The Heritage Lottery Fund
Committee of the XIVth Pilgrimage of Hadrian's Wall