Frontier Voices Across Time
An arts-based creative exploration of perceptions of the Hadrian's Wall World Heritage sites and landscapes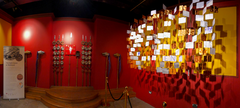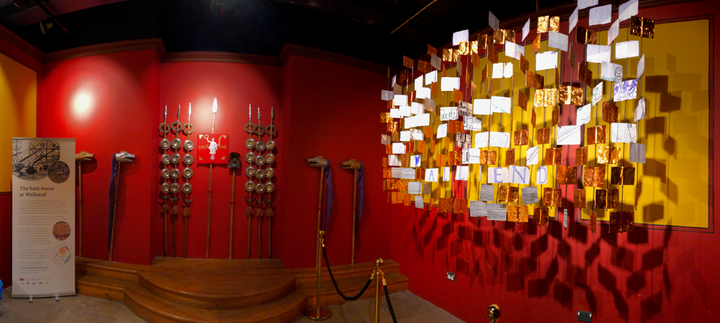 On view in the Shrine of Standards, Roman Gallery, during museum hours
Installation artwork made specifically for The Shrine of the Standards at Segedunum Fort in Wallsend, inspired by Hadrian's Wall 1900 years ago and the landscape at Wallsend today. The concept was created by artist Karen MacDougall, who worked with Year 4 of Denbigh Community Primary School, Wallsend, and the learning team at Segedunum.
The pupils explored the fort museum at Segedunum and the reconstructed piece of Hadrian's Wall nearby. They were amazed by the size of the Wall and inspired by the long list of names collected from the centurio stones - centurions who were actually here building the Wall 1900 years ago. The pupils learned how to use and emboss metal foil using a stylus and captured some of these names on copper 'stones' creating a wall. The viewing gallery at the fort encouraged them to look at the Wallsend landscape today and how it has changed and they drew an interpretation of this onto a huge canvas. Karen cut and mounted these onto the reverse of the centurio stones and then constructed the giant mobile so the stones could all move independently in the air currents in the gallery.
It is possible, if you wait long enough, that you will see either the Roman or today's side of the stones, but mostly it is a mosaic fusion of past and present. The past and present slowly shifts, stones moving by magic and projecting shadows onto the Shrine wall as the air moves in the space.
This is one of ten art installations in the Frontier Voices project and constructed along the length of Hadrian's Wall in various locations.
See Karen MacDougall's blog to learn how the artworks are progressing and where you can find them: karenmacdougallartist.com
This event is part of the Hadrian's Wall 1900 Festival.