Borderline Funny
Hadrian's Wall in cartoons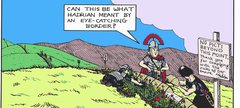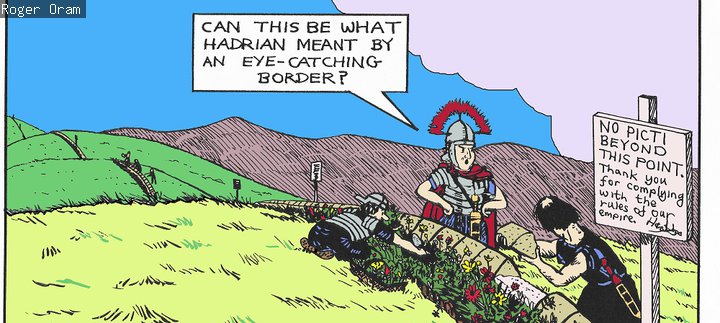 Until Sunday 22 September
Curated by the Friends of Segedunum. Supported by the National Lottery Heritage Fund and the Committee of the XIV Pilgrimage of Hadrian's Wall.
Win one of two original Hadrian's Wall themed cartoons donated by Private Eye's Tony Husband. Tickets £1 to be drawn 13 September 2019. Buy tickets.
Have you seen Borderline Funny? Please tell us what you think in this survey. With a chance to win a pair of Season Tickets.
Borderline Funny is a new exhibition exploring the depiction of ancient Rome's great northern frontier of Hadrian's Wall in cartoons.
It is the first time an exhibition dedicated to cartoons about Hadrian's Wall has been shown.
Featuring Roman era graffiti, cartoons from the 19c - 21c, some funny, some satirical, including new original work produced for the exhibition referencing contemporary topics such as Brexit and US politics.
Also featuring are works of the late Roger Oram, who produced the Arbeia Society magazine, and many other cartoon works imagining life on Hadrian's Wall.
This exhibition coincides with the 14th Pilgrimage to Hadrian's Wall in July 2019. This decennial event will see almost 250 'Pilgrims' tour the Wall for a week, reviewing the latest discoveries from the past ten years.