Woad, Weapons and Warriors
Meet people from the local Celtic tribes from the time of Roman occupation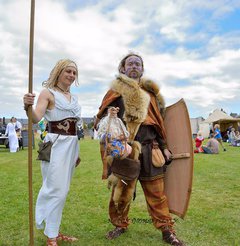 Time:
11am - 3pm
Cost:
Free event, usual adult admission charges apply
A free family event for all generations.
Meet people from the local Celtic tribes from the time of Roman occupation.
Discover how they lived and how they fought back. Try your hand at ancient Celtic art, everyday activities and fighting techniques.
Have your face painted by an ancient Briton with authentic natural dyes 'woad' in the style of a Celtic warrior (or any Celtic design) or try your own design.

Get up close to native Briton weaponry – handle a replica northern England sword and other weapons. Enter the roped arena for target practice with your slingshots!
Hear fearsome tales from Celtic storytelling warriors around the fire pit - discover Celtic warfare, and the true stories of the local tribes who lived here and revolted against the invading Romans. You'll be invited to boast about your warrior status too.