Story of Place - Helix Arts
An exhibition exploring how we gather and share stories.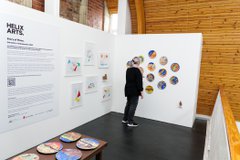 Until Wednesday 7 September
Open during normal Museum hours
This exhibition, which has been produced by children from Carville Primary School, Western Community Primary School and Beacon Hill Sixth Form working with artist-in-residence Sue Loughlin, explores ways in which we gather and share stories. The artworks on display give us a window into these children's lives during the Covid-19 pandemic.
To learn more about this exhibition visit: www.helixarts.com/work/story-of-place/

Part of Helix Arts Story of Place programme, a commission by Wallsend Children's Community supported by Save the Children and BVlgari.
Photo credit: Laurelle Kamara