KS2: Science, History, Maths, Art and Design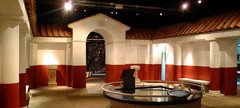 £90 per workshop
Each workshop lasts for about 1 hour 30 mins with a maximum of 30 children. It provides a new and exciting contrast to the Roman activities on site. Please contact the Museum to book. The workshop can be adapted for KS3 and SEND groups.
From Celtic construction to Roman building we will explore how things improved with the Romans.
In this hands-on Roman Gallery experience your pupils will develop their team working skills as they explore Roman construction and practise their best Roman writing.