Marvellous Mondays - Get Building!
Make a mini centurial stone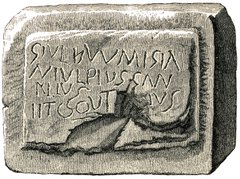 Times:
11am - 3pm
Price:
Free activity, donations welcome
Age suitability:
5-12 years; younger siblings welcome to join in
Get building!
When soldiers finished building a section of Hadrian's Wall, they often marked a stone with the name of the centurion in charge of their group. Try building arches and make your own mini-centurial stone to take away with you.

This activity is part of the Hadrian's Wall 1900 Festival, a year-long event celebrating 1900 years since the building of the Wall.