Marvellous Mondays - All Summer Long
Find your ways to play with out Roman-themed activities on Mondays throughout the summer holidays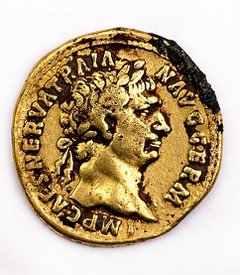 Times:
11am - 3pm

Price:
Free activity, donations welcome

Age suitability:
5-12 years; younger siblings welcome to join in

25 July - Archaeology Find out what archaeologist do to something they find in the ground. Have a go at sorting and cleaning Roman artefacts.
1 August - Mosaics Romans used mosaic tiles to decorate their floors and walls. Design and create your own mosaic on a coaster.
8 August - Roman Herbs Plant Roman herbs to take away. Bring a clean yoghurt pot so you can recycle it into a plant pot (but don't worry, we will have some for you to use).
15 August - Coins Have a go at making a Roman coin or a portrait of Hadrian out of clay.
22 August - Woolly Romans In Roman times, wool was spun and woven by hand to make cloth. Make your own wool wall decoration.
29 August - Gods and Goddesses Romans worshipped different gods and goddesses. You can often identify Roman gods and goddesses by the things they carry or wear. Try making your own Roman god or goddess crown and staff.
This series of activities is part of the Hadrian's Wall 1900 Festival, a year-long event celebrating 1900 years since the building of the Wall.