Onsite visit with Covid 19 measures in place KS2,KS3 Archaeology, history, drama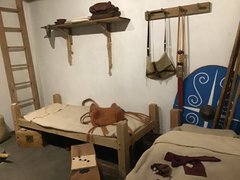 From Wednesday 1 September
£180 per day (10:00-2:00) per class
Maximum of 1 class per day
We would split the class into 2 smaller groups for the day. Each smaller group would have a facilitator.
The museum will be open according to latest government guidelines and is dependent upon tier restrictions.

Please email the learning team for further information
segedunumlearningbookings@twmuseums.org.uk
In this visit, which has been designed with Covid measures in place, children will explore the Roman Gallery, Fort site and Hadrian's Wall at Segedunum.
The morning session provides an introduction to life as a soldier at the Fort. Your class will find out about a Roman soldier's kit and training and enjoy gallery activities centred around original Roman artefacts found on the fort site.
The gallery would be booked out for your group so would not be open to the general public during your session.
in the afternoon session, your class will have a facilitated tour of the original Fort and Hadrian's Wall sites.
We would be able to provide a lunch space and toilets which would only be used by your group.
You can find out further information about the measures we have in place, and hazard identification documents to help with your risk assessment here: