Call the Cavalry
The Roman Cavalry demonstrates its skill and horsemanship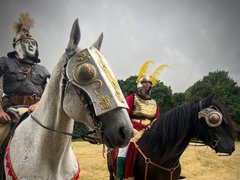 Times
11am - 3pm
Price
Kids under 16 years go free, usual adult admission charges apply
No booking required
Come along for a great family day out as you step back in time to when the Roman cavalry once roamed Hadrian's Wall.
The cavalry regiments were the elite of the Roman army's auxiliary forces. Marvel at the skill of the cavalrymen with their battle equipment and horses and discover what training and daily life consisted of within the cavalry unit.
Learn about Roman weapons, armour, horses and techniques during Equistry's dynamic displays:
11.30 – Display followed by meet the horses/photo opportunities
14.00 – Cavalry show - training techniques/skills/meet the horses
There'll be plenty of photographic opportunities throughout the day - we'd love to see your photos so please do share on our social media.