KS2 & SEND: Archaeology, History & Local History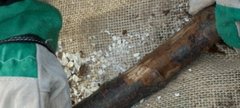 £180 per class (with a maximum of 32 children)
Currently planning for 2019
If you are interested in these sessions please speak with the Learning team at Segedunum on 0191 2784217
Travel back through time in our Stone Age to Iron Age skills days.
Explore how our prehistoric ancestors lived, the homes they built, the tools they used and the food they ate.
Schools will take part in 3 different practical workshops throughout the day and handle replica objects to gain an understanding of the importance of archaeology in uncovering the past.
Activities will run from 10am until 2:30pm, so make sure you can stay till then. We would hate you to miss out on a session.
Some activities take place outside so please bring suitable outdoor clothing.